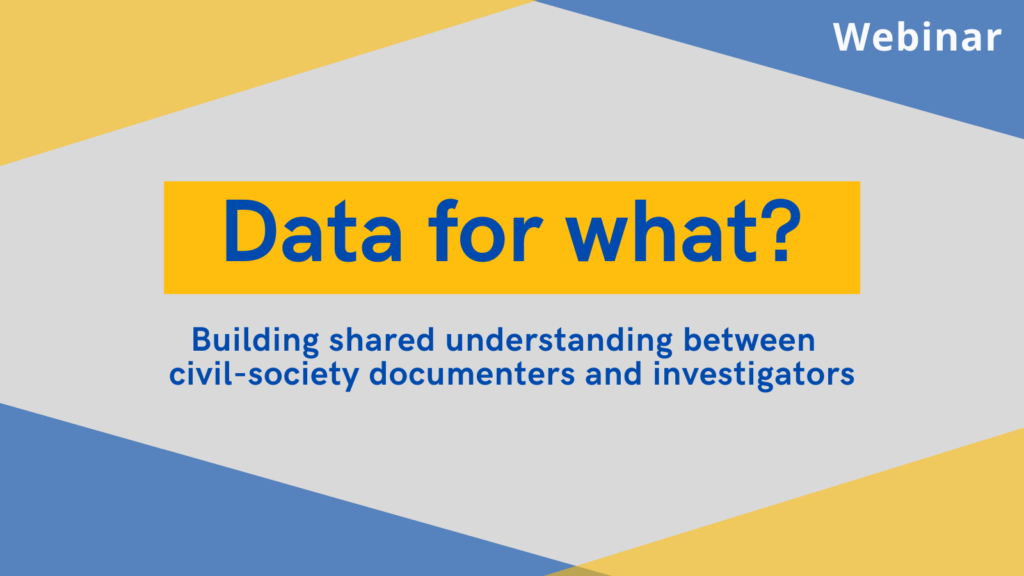 Webinar: June 3
18:00 (CEST)
12:00 (UTC)
01:00 (KST, 4th)
RSVP: https://forms.gle/5FcXEBrNJoQggpYx6

Human rights documenters and investigators both collect and analyze sets of data to seek truth and pursue justice. On the civil-society documenter side, information is collected for a variety of goals including preserving memory, advocacy, and accountability. The types of information, method of collection, and storage can hinder or contribute to these goals.
On the other hand, those working to pursue justice from the investigator side interact with civil-society generated data with their own varying standards of admissibility and analytic techniques. They may rely on civil society to build cases, perform data analysis, and gather other compelling background information. Likewise, the types of information, collection and storage methods used by civil society can either push forward justice measures, or be a stumbling block to effective analysis and utilization.
In between is the data itself, based on experiences of abuses on the ground. This session will look at different contexts of abuse and look at how documenters and investigators at a variety of national and international mechanisms are using different technologies and methodologies to raise the voice of civil society data in pursuit of truth and justice.
Discussion topics will include the questions: What technology tools exist or need to be created to amplify the power of civil-society collected data? What challenges and opportunities are presented by new forms of digital evidence and data collected through open source intelligence (OSINT)? And What kinds of resources are needed to implement these solutions?